BleuIO Takes Firmware Updates to the Next Level with SUOTA Integration
September 28, 2023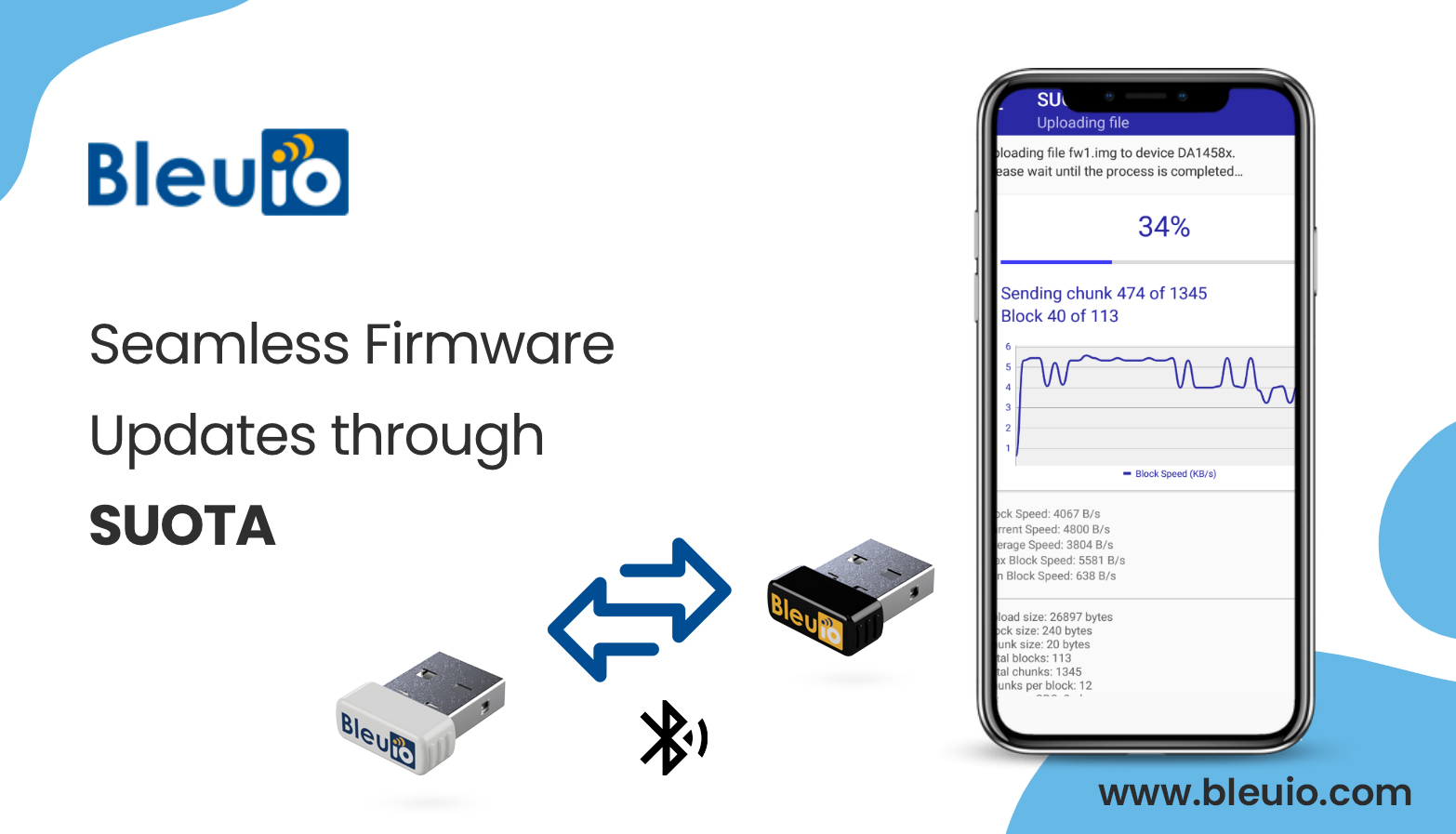 In today's fast-paced world of technology, keeping devices up-to-date with the latest firmware is crucial for ensuring optimal performance, security, and functionality. To meet this demand, BLE (Bluetooth Low Energy) devices have become increasingly popular in various applications, from fitness trackers to smart home gadgets. One critical aspect of maintaining these devices is the ability to perform firmware updates seamlessly. BleuIO, a cutting-edge Bluetooth Low Energy USB dongle, has stepped up to the plate by offering support for SUOTA (Software Updates Over The Air), revolutionizing the way we update our Bluetooth-enabled devices.
Firmware updates are like lifelines for electronic devices. They bring enhancements, bug fixes, improved security, and often introduce new features to your gadgets. Without regular updates, devices can become vulnerable to security threats, suffer from performance issues, and lag behind in terms of functionality.
BleuIO is a highly versatile Bluetooth module that provides a wide range of capabilities, from supporting various Bluetooth profiles to enabling seamless communication between devices. One of the standout features of BleuIO is its support for SUOTA, which allows for effortless and efficient firmware updates. To avail this feature, ensure you update your BleuIO dongle to firmware version 2.4.0.
SUOTA, or Software Updates Over The Air, is a game-changer in the world of firmware updates. Unlike traditional methods that require a physical connection or specialized tools, SUOTA leverages Bluetooth technology to transmit firmware updates wirelessly. BleuIO's integration of SUOTA support makes it a standout choice for developers and manufacturers looking to streamline firmware updates for their Bluetooth-enabled devices.
In a world where technology evolves rapidly, the ability to keep devices up-to-date is paramount. BleuIO's support for SUOTA represents a significant leap forward in the realm of firmware updates. It offers convenience, cost-efficiency, speed, and security, all while enhancing the overall user experience. Whether you're a developer or an end-user, BleuIO's SUOTA support is a step in the right direction towards a smarter, more connected future.